Mutual Logistics expertise
In the field of warehousing, Mutual Logistics' expertise is recognized and appreciated by all its customers. The strong skills of our employees will satisfy your various logistics requests.
Mutual Logistics is responsible for managing logistics and transport operations within the framework of contractual relationships adapted to the needs of its customers. They can be carried out in single or multi-customer storage warehouses. The services offered range from product approval to shipment including warehousing, order preparation and packaging. The use of a real-time information system guarantees the quality of the operations and full traceability of the information.
With the technologies used, the services of Mutual Logistics meet all the needs of the different sectors to which they are offered: Manufacturing, Consumer Goods, Distribution and e-commerce, and provide them with structural advantages.
Mutual Logistics' expertise in the areas of flow synchronization and the organization of synergies can also help reduce stock levels and costs.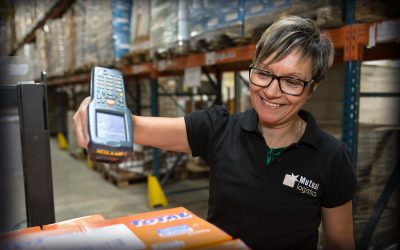 Improving competitiveness
Improving quality of logistics operations
Increasing customer service
Adjusting logistics expenses to business revenues
Multi-customer warehouses that reduce your logistics costs, both in warehousing and transport.
Offer complete logistics tailored to your flows and products to ensure the satisfaction of your customers.
A leader in cold chain logistics to preserve the quality of perishable foods, refrigerated and frozen products.
SERVICES
Reception
Warehousing
Stock maintenance
Order preparation by pallet
Order preparation by parcel
Order preparation by consumer unit
Custom packaging
Flow traceability
Shipping
Quality certification
Warehouse IT
Transport with synchronization of flows
Stock management
TECHNOLOGIES
Real-time management of radio frequency operations

Full EDI and Web EDI communication

Extranet access for consultation

Real-time stocks and orders

Use of the best warehouse management software packages

Use of the best stock management software packages

Preparation of orders by voice recognition
YOUR BENEFITS
Cost synergies
Flow synergies
Stock reduction
Transport and logistics cost reduction
Availability of goods
Improved customer service